Many ideas to be implemented before designing the bathroom, like their wall paint color, lighting options, which type of tiles combination for countertop and walls, interior decorations accessories, such as, bathtub, tap, shower, mirror, soap and shampoo bar shelves, etc.
For updating your bathroom, you required to prevent some accidents in it too, for that safety quick fixture for handlebars as well as for large mirror are a good option. So to choose the best vanity cabinets for bathroom is also a tougher task. Add style and functionality to your bathroom with new online bathroom vanity cabinets. The mirror should positioned properly (at eye level) on the wall directly above the vanity so that you and all your guests can see their image easily. Different types of bathroom vanities are available in a variety of styles, sizes, and materials. There are two types of sink, double sink vanities, and single sink vanities. While choosing vanity cabinets for your bathroom, consider your budget, storage needs, and the size of your bathroom.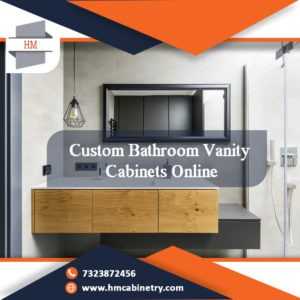 So before purchasing vanity cabinets online, you should keep in your mind that what best options are there for choosing best bathroom vanity cabinets like 
Bathroom Vanity Types and Styles
There are several types of bathroom vanities like Freestanding bathroom vanities, Floating bathroom vanities, Corner bathroom vanities, single sink bathroom vanities, double sink bathroom vanities, Build-to-fit bathroom vanities, etc. You can choose vanities according to your usage, need.
Bathroom vanities come in several popular decorating styles like
Modern or contemporary vanities
Traditional or classic vanities
Casual vanities
Farmhouse or rustic vanities
Eclectic bath vanities.
You can buy any of the above vanity cabinets according to your style and tastes.
      2. Vanity Materials and Finishes
Vanity materials are of several types like as follows
Veneers give the same look as wood and also are less expensive.
Solid woods like oak, maple, and cherry are beautiful, durable
Laminates are made out of long-lasting, needs low-maintenance.
You can opt any of the above materials for your bathroom vanity.
     3. Vanity Countertop Choices
Vanity countertops are available in a wide variety of colors and textures like Cast polymers Ceramic tile ,Solid-surface materials ,Natural stone slabs or tiles of granite, marble or other natural stone, Engineered stone or quartz composite tops look ,Laminate .use any of them according to your need.
    4. Vanity Cabinetry and Storage Options
The most common bathroom vanity cabinets are Furniture-style vanities, Frameless or Euro vanities, Frame vanities, etc. Besides, Different vanity storage options include Doors and drawers, Tilt-down drawers, Open shelves, etc.
Positioned and tilt your Vanity cabinets in your bathroom according to your choice.
    5. Bathroom Vanity Sizes
Your available space will determine the dimensions of the bathroom vanity you need during online cabinet shopping.
Standard vanity widths are 24-inches, 30-inches, 36-inches, 48-inches, 60-inches, and 72-inches.
Bathroom vanity depths range from 17-inches to 24-inches.
Most standard vanities are 31-inches high.
Some vanities go up to 35-inches high.
Shorter vanities often work well for children.
If you want to purchase Online bathroom vanity cabinets in customized form, you'll find all types of bathroom vanities are available at different websites of the organizations who are dealing in online selling of Bathroom cabinetries and professional installation help is also available if you need it. The professional will come to your home and positioned vanity cabinets in proper place in the bathroom if required.
HM cabinetry is also one of the best companies that deal in selling online bathroom vanity cabinets. For appointment and more information you just need to check the website  hmcabinetry.com or by calling on the number for online cabinet shopping who will provide you best vanity cabinets for your bathroom.